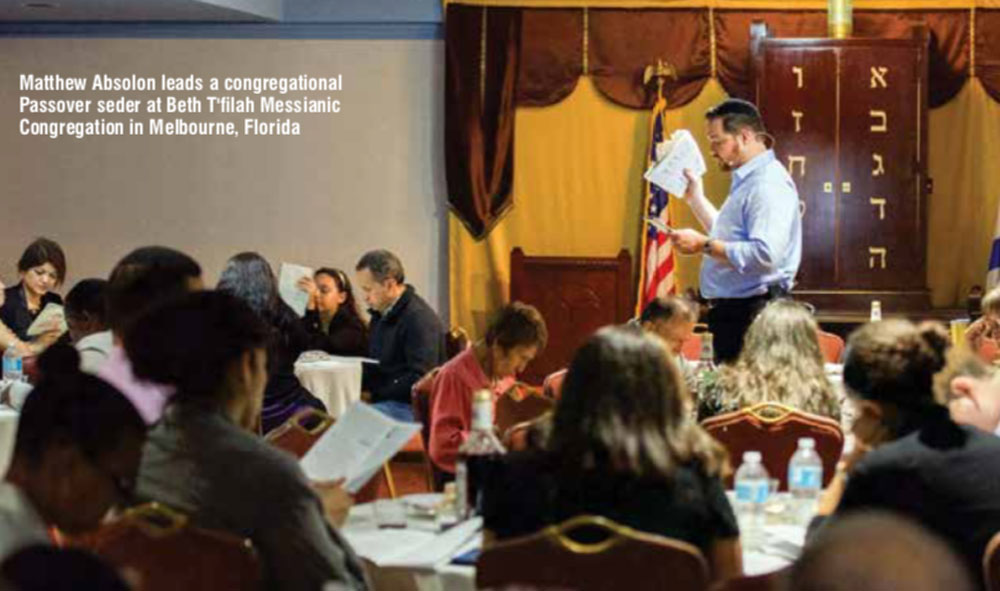 - By Mandie Greenberg Cook -
Matthew Absolon lives and ministers in South Florida, but grew up as one of eight children in Mackay, Queensland, Australia. That he is not native to the Miami
area becomes readily apparent within minutes of first speaking with him. His accent, though softened by a de- cade of living in the United States, is still unmistakably Australian. So how does a nice Jewish boy from the "Land Down Under" end up in South Florida? The same way many stories begin: with a girl.
Both sides of his family had been established in Australia for four generations, but Matt and his siblings were only the second generation to be raised as Messianic Jews. From a very young age, Matt had a deep understand- ing of the reality of God. In speaking with him, Matt can recall encounters with God as young as 8 years old. As he grew older, it took study of religion, theology and the doctrines that he had been raised with to solidify his beliefs. From there, Matt continued to study in order to be able to defend his faith. And even as a teenager, God was beginning to stir in him a heart for ministry.
Due to the relatively small size of the Australian Messi- anic community, social networking sites became a way for Matt to connect with the greater Messianic community all over the world. While on the site Myspace© one day in the early 2000s, Matt became friends with a young lady named Annie from Florida. She was just a couple of years younger, Jewish, Cuban and like him, a second generation Messianic Jew. They began talking regularly through the site and when it came time for Matt to choose a vacation destination, he knew exactly where he wanted to go. Florida.
At just 20 years old, Matt flew to Florida, excited about his first trip to America and the chance to meet Annie. She and her parents were waiting at the airport when his plane touched down. From that moment, any plans he had for his time in the States were thrown out the window. For the next few weeks, spending time with Annie was all that mat- tered. As the time for him to return home grew closer, Matt couldn't see himself without this beautiful, godly young woman in his life. After speaking with her parents, Matt asked Annie to marry him before he left. She said yes.
Matt returned to Australia, his fiancée still in Florida, and began preparing himself to be a husband. Eighteen months later, he had gotten all the necessary paperwork, finances and preparations completed in order to return to America. In 2009, Matt was able to marry the love of his life and take her as Mrs. Annie Absolon. At the time of their wedding, neither of them knew what God had in store for them, but they both agreed that ministry would be a part of it. "Both Annie and I knew we wanted to be in ministry from a young age. Even as children we both wanted to serve the Lord, so it became a pillar of our marriage. We dedicated ourselves to ministry as a couple from the moment we got married," Matt explained.
Upon moving to America permanently, Matt and Annie joined Congregation Shema Israel, a Spanish-speaking Messianic congregation in Deerfield Beach/Miami, led by Rabbi Manuel Goffman. There they were discipled and trained as a part of Shema Israel's ministry team. The Abso- lons were there for several years before a need arose at one of Shema Israel's sister-congregations: Beth T'filah in Hol- lywood, Florida. Rabbi Gi'don Nelson founded Congrega- tion Beth T'filah. After many years of faithful service to the community, Rabbi Nelson was forced to retire due to health issues. With his retirement eminent, Rabbi Nelson contacted Rabbi Goffman for counsel. Knowing their hearts for min- istry and their unified gift of leadership, Rabbi Goffman offered the Absolons to help Beth T'filah. Rabbi Nelson welcomed the nomination and Rabbi Goffman sent them out with his blessing.
The Messianic community of South Florida is relative- ly close-knit, so when Rabbi Ira Brawer of Heritage House Ministries heard that one of the congregations in the area needed help, he too offered his assistance. The Absolons wel- comed his knowledge, experience and council. Rabbi Brawer became a mentor to Matt and Annie, helping them navigates the brand-new arena of congregational leadership.
When speaking to Rabbi Brawer about the Absolons, he had this to say: "From the first time I met Matthew, I knew he was a special young man. As soon as I got to know him, I found him to be a serious lover of Yeshua, his family and God's people. It has been a joy to be a part of his life and development as a leader, both in his home and in the congregation. Additionally, he has one of the greatest assets that a man can be blessed with by God: his wife Annie."
Even before taking on the leadership of Congrega- tion Beth T'filah, Matt had begun pursuing his masters in Rabbinic Studies through Netzer David, a UMJC- approved Yeshiva spearheaded by Rabbi, Dr. John Fischer and Dr. Patrice Fischer. Eventually, Matt will also pursue s'micha (ordination). But until then, he is firm about not being labeled as a rabbi. He says, "I'm a lover of study and lecture. As of right now, I've been at Netzer David for the last four years or so. And I believe that until I finish all my studies, I cannot be called a rabbi. For now, I'm just the Rosh Kehilah or Head of the Congregation. It will take me a few more years to finish up my degree since I'm only able to go part time right now. But I will see it completed."
In addition to leading a congregation, Matt is the owner of his own construction company. Back in Australia, his family had been heavily involved in con- struction. Matt had done all sorts of odd jobs growing up and wasn't too keen on going back into it. But, as a staunch believer in being bi-vocational, Matt sought the Lord about what to do. He felt called to start his own company and since he stepped out in obedience, his business has been blessed.
His business acumen, as well as his openness about his identity, has led to some strong relationships among the mainstream Jewish community in his neighborhood. "When it comes to cultivating relationships with the Jew- ish community, I've found that it all comes down to being genuinely loving. Genuine love is still hard to find and people will be attracted to Yeshua's love in you. Beyond that, I've found that not hiding who I am and not apolo- gizing for what I believe also helps to build trust. There are some who won't want to connect with me, but that's OK. I'm still going to show them the love of Yeshua."
Whenever Matt speaks about the congregation, he lights up. "I love seeing Yeshua at work in people's lives. At the beginning of this year, we had six baptisms and proclamations of faith. On top of that, we're seeing mar- riages grow in stability and people deepen their relation- ship with Adonai. And that's what makes me tick. We are truly blessed to have a small congregation of genuinely warm and loving believers in Yeshua."
With a congregation, a business and two beautiful children, Jimmy and Mikhaeli, the Absolons have a very full plate. But they wouldn't have it any other way. And we look forward to what the Lord with do through them in the days to come.